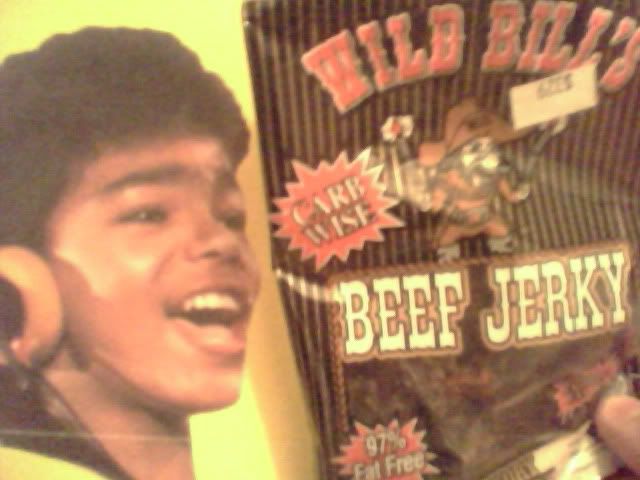 Wild Bill's Hickory Smoked
$3.29 1.75 Oz. Bag
Purchased at Christy's Orleans
(The Old SOGS)
Again, sorry for the lo rez pic, but I'm phoning these pics in until I repair my super awesome Digi Cam or get a new one.  Its February on Cape Cod, so I don't see buying a new one happening any time soon.  Maybe I'll try to fix it myself with rocks and sticks.  Anyways, here's a bittersweet review for you.  
I discovered the Wild Bill's brand back in my glory days at Umass Amherst, where the excellent liquor store Spirithaus had a big jar of 99 cent pieces.  I fell in love immediately.  The strips of beef jerky had a great, chewy consistency and loads of pepper/soy sauce flavor.  I used to buy like 5 strips at a time.  I saved money on hooch, because I predominately drank Golden Anniversary beer back then (2 bucks a sixer) and Old Crow bourbon (7.99 a fifth).  With savings like that, I could splurge on some of the best jerky I'd had at that point.  The strips, it turns out, are still the way to go.  Seems that in the past five years, they've expanded their operation and are now widely available all across Massachusetts, including Cape Cod, which seems to be the last place alot of foodstuffs visit.  It is a giant arm of sand far away from civilization, after all.  
Anyways, since Wild Bill's has expanded, the quality of their product has gone down, at least in the bagged jerky department.  The 99 cent strips in the jar by the register are as great as ever, but the bags are a whole nother story.  
I noticed that the larger, $5.99 bags of jerky had a noticeable nosedive in quality awhile ago.  The little bags were still good though.  Basically, here's what's up with jerky.  The smaller producers like Allagash Black (see my last review) use whole pieces of beef.  The texture and consistency of this kind of jerky is leagues above alot of the cheaper, more widely available stuff.  Here's why, alot of the huge beef jerky producers use a meat past that is formed to look like honest beef jerky, dried and flavored.  Most of the $3.99 bags available at super markets are this faux jerky.  Its sad to see a once incredible jerky maker sink to this level, but Wild Bill's uses this cheapo formula for their bagged jerky.  
In the little bags, you used to get mostly honest to goodness solid pieces of beef, with a little bit of the cheap filler crap mixed in, but now, the tables have seemed to turn.  My bag was 70% faux jerky and 30% the real deal stuff.  The big bags aren't even worth buying, as the nasty, chewy, gummy meat paste pieces are huge and unpleasant to gum through.  
But, lets get down to the nitty gritty.  Upon opening my bag of Wild Bill's, that good old peppery, soy sauce nose leapt out at me just like in the old days.  But, as of fishing my first piece out of the bag, I knew the good old days of this brand had truly passed.  Just by looking at it, I could see that it was that preformed meat paste junk.  The flavor is still great, but the consistency leaves much to be desired.  To add insult to injury, there's a piece of the real deal, solid strips of beef here and there, as if to remind you of how good this brand used to be.  
And, they had to include this on the back of the bag, which seems to tell the sad story of their faltering quality:  
"From the heart of Pennsylvania Dutch Country comes the finest in beef jerky and other meat snacks.  Wild Bill's Foods started as a local butcher shop in 1955 serving the local farm folks.  Today, the same quality and care goes into every product we make, whether it's for local folks or jerky lovers around the world.  
Wild Bill's snacks continue to have the highest quality and finest taste appeal available on the market.  You won't find meat by-products added to our jerky.  Our standards of quality and our continuous research and development have positioned us at the top of the specialty meat snack market."  
In other words, what was once a great local delicacy has turned into a giant company that is more interested in making tons of money than it is with making excellent jerky.   
Let me stress again that their single 99 strips still are excellent, but their bagged product has taken a huge nosedive in quality since they have been "at the top of the specialty meat snack market."  
Smell: 10/10
Taste: 8/10
Consistency: 3/10 
Total : 5/10